How to cite this WIREs title:
WIREs Syst Biol Med
Impact Factor: 2.385
Drug discovery and the maze of biological complexity: an editorial essay
Editorial Commentary
Published Online: Mar 19 2014
DOI: 10.1002/wsbm.1266
This article is categorized under:
Biological Mechanisms > Chemical Biology
In the Spotlight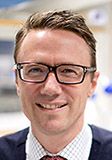 Jens Nielsen
is a Professor in the Department of Biology and Biological Engineering at Chalmers University of Technology in Göteborg, Sweden. His research focus is on systems biology of metabolism. The yeast Saccharomyces cerevisiae is the lab's key organism for experimental research, but they also work with Aspergilli oryzae.
Learn More