How to cite this WIREs title:
WIREs Syst Biol Med
Impact Factor: 2.385
Pathways, networks, and systems medicine—the meeting place of the Aegean and the mind
Editorial Commentary
Published Online: Apr 01 2011
DOI: 10.1002/wsbm.153
Click here for a collection of articles based on presentations from the

on Pathways, Networks, and Systems Medicine
In the Spotlight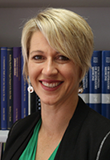 Dr. Tawhai is PI for lung modeling activities at the Auckland Bioengineering Institute and adjunct Associate Professor of Biomedical Engineering at the University of Iowa. Her research centers on developing multi-scale and multi-physics computational models of structure and function in the lung. A theme that runs through all of her work is the relationship between regional changes in lung structure or function and standard integrated measurements of the lung that are made at the mouth.
Learn More
NK cells generate memory-type responses to human cytomegalovirus-infected fibroblasts. Read the research in EJN: https://t.co/ig9J7vGWI9