How to cite this WIREs title:
WIREs Syst Biol Med
Impact Factor: 2.385
Current Issue
Wiley Interdisciplinary Reviews:
Systems Biology and Medicine
Volume 9 Issue 5
(September/October 2017)
Page 0 - 0
Published Online: May 10 2017
DOI: 10.1002/wsbm.1387
Published Online: May 05 2017
DOI: 10.1002/wsbm.1386
Cellular membranes are omnipresent in cells, and are involved in numerous biological functions. Recognizing the intricate relationship between membrane biophysics and cellular processes is a key step towards a systemic understanding of cell biology.
Published Online: May 16 2017
DOI: 10.1002/wsbm.1389
Advances in microscopy, molecular biology, and computer modeling are explaining long‐observed features of chromosome structure during cell division.
Published Online: May 12 2017
DOI: 10.1002/wsbm.1388
The diverse and dynamic biomechanical functions of the uterus and cervix are critical for the execution of human reproduction. These biomechanical functions are dictated by complex interactions of biochemical and mechanical signals that control the hierarchical smooth muscle cells and collagen fiber structures at various biological length scales. Modeling these structure‐function relationships to understand normal and abnormal physiologic processes in the nonpregnant and pregnant state remains an open research topic.
In the Spotlight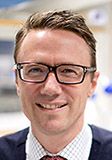 Jens Nielsen
is a Professor in the Department of Biology and Biological Engineering at Chalmers University of Technology in Göteborg, Sweden. His research focus is on systems biology of metabolism. The yeast Saccharomyces cerevisiae is the lab's key organism for experimental research, but they also work with Aspergilli oryzae.
Learn More