How to cite this WIREs title:
WIREs Syst Biol Med
Impact Factor: 2.385
Early View
(Articles for upcoming issues)
Opinion
Feng Liu, Paul S. Mischel
Published Online: Sep 11 2017
DOI:10.1002/wsbm.1398
Advanced Review
Gianmarco Rinaldi, Matteo Rossi, Sarah‐Maria Fendt
Published Online: Aug 30 2017
DOI:10.1002/wsbm.1397
Focus Article
Stefano Donati, Timur Sander, Hannes Link
Published Online: Aug 15 2017
DOI:10.1002/wsbm.1396
Primer
Michael C. Getz, Jasmine A. Nirody, Padmini Rangamani
Published Online: Aug 08 2017
DOI:10.1002/wsbm.1395
Advanced Review
Daniel J Cook, Jens Nielsen
Published Online: Jun 23 2017
DOI:10.1002/wsbm.1393
Advanced Review
Kelly S. Burrowes, Jan De Backer, Haribalan Kumar
Published Online: Jun 13 2017
DOI:10.1002/wsbm.1392
Focus Article
Ido Goldstein, Gordon L. Hager
Published Online: May 22 2017
DOI:10.1002/wsbm.1390
Advanced Review
Eberhard O. Voit
Published Online: May 19 2017
DOI:10.1002/wsbm.1391
In the Spotlight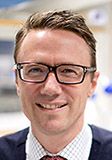 Jens Nielsen
is a Professor in the Department of Biology and Biological Engineering at Chalmers University of Technology in Göteborg, Sweden. His research focus is on systems biology of metabolism. The yeast Saccharomyces cerevisiae is the lab's key organism for experimental research, but they also work with Aspergilli oryzae.
Learn More