How to cite this WIREs title:
WIREs Syst Biol Med
Impact Factor: 2.385
Available only through online subscription:
WIREs Systems Biology & Medicine
An important new forum to promote cross-disciplinary discussion of systems concepts in the life sciences and medicine
An authoritative, encyclopedic resource addressing key topics from the perspectives of genomics, proteomics, computational biology, mathematical modeling, physiology, network biology, and regulatory biology
Free or low cost access in developing countries through Research4Life
Indexed by MEDLINE/PubMed, Clarivate Analytics (formerly ISI), CAS, and Scopus
Offers FREE downloadable PowerPoint presentations of figures for non-profit, educational use
Featured Collection:
Top Ten WSBM Articles
Click here for a collection of articles based on presentations from the

on Pathways, Networks, and Systems Medicine
In the Spotlight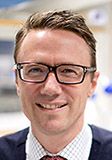 Jens Nielsen
is a Professor in the Department of Biology and Biological Engineering at Chalmers University of Technology in Göteborg, Sweden. His research focus is on systems biology of metabolism. The yeast Saccharomyces cerevisiae is the lab's key organism for experimental research, but they also work with Aspergilli oryzae.
Learn More